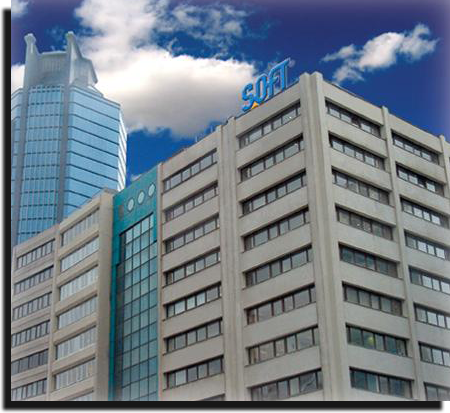 SOFT Business Solutions Inc. was founded in early 1996 by a team who had accomplished successful projects for quite a long time. Today, with its accomplishment "to provide solutions satisfying customer requirements by making use of the latest developments in Information Technologies (IT) and to present its consultancy services with quality basis" SOFT has become the number one Strategic Business Partner for Logistics and Transportation Companies in Turkey. With an expert staff of 60, SOFT is providing service to more than 700 companies in Logistics and Transportation Sector.

SOFTTRANS®, SOFTFINANCE, SOFTINTERFACE and SOFTE-DOCUMENT Applications for Logistics and Transportation Sector constitute an Enterprise Resource Planning (ERP) solution comprising 130 modules. SOFT also provides quickly adaptable solution packages for small and medium size enterprises. Web-based and mobile applications, which are developed by .Net Technologies, iPhone, iPad and Android tablet applications are among the products of SOFT.

SOFT Applications, with their modular and flexible structures consist of thousands of parameters and options. They are adaptable to company and business requirements and they allow management of logistics processes as a whole. They form a customer-focused management tool which provides the following strategic and operational benefits for companies in Logistics and Transportation Sector:

| | |
| --- | --- |
| • Integrated and effective process management | • Cost management and control |
| • Advanced planning | • Customer satisfaction and loyalty |
| • Sustainable efficiency increase | • Competitive advantage |
| • Traceability and controllability | • Risk management |
| • Speed | • Easy reporting and business intelligence |
| • Flexibility | • Easy management |
| • Reducing and preventing errors | • Easy maintenance |
SOFT Applications are continuously renewed and enhanced in accordance with changes in regulations, customer requests and requirements, and with developments in Logistics and Transportation and IT sectors. These improvements are made available regularly in a planned manner for SOFT Clients.

Project management methods are used in the implementation of SOFT solutions. Along with training and support at client's premises, help desk and Electronic Customer Support services are provided. Customer training is carried out regularly at SOFT Training Centre.

Process and requirement analysis and corporate auditing are performed to enhance work processes. Consultancy services are provided in the areas of process improvement and "Supply Chain and Logistics Management".

Advanced corporate solutions are provided for truck tracking and fleet management with SOFTEAL Truck Tracking and Fleet Management System. Integrated operation of SOFTEAL and SOFT applications lead to high level workflow and process management and result in high efficiency, cost saving and traceability.

SOFT, which employs certified experts in many areas, holds such titles as "HP Preferred Partner", "Microsoft Gold Certified Partner" and "PROGRESS ISV Partner". In order to meet the customers' all IT requirements from a single centre, SOFT provides turnkey solutions for infrastructure, communication, internet, system security, hardware and system software. In particular, requirement and performance analysis, planning, product supply, installation, training, consultancy, system support and outsourcing services.